*Looking for the OLD AUDIO archives? they are on ROCKSTARS page*.
Spokane's top-dog THE WINGMAN!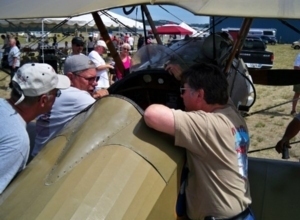 ADDISON PEMBERTON, a man of many wings. Nobody has given more back to the aviation community or brought more attention to our little "slice of sky" than the man behind such aircraft as the BOEING 40-C, "the Speedmail", and various PT Stearman we so often hear buzzing across the Spokane skyline. We caught up with this expert builder/engineer/master restorer (and experienced "test" pilot) at the GREAT NORTHWEST BIPLANE FLY-IN.
HEAR THE FULL INTERVIEW HERE!!!
(includes behinds the scenes, organizing this incredible event, updates on latest projects and airshow highlights)  See the planes on the NORTHWEST HOTWINGS PAGE. 


*One warning: Celebrating 30-yrs and over 600 shots from all over the country, you better make some coffee!  The most recent (2009) BIPLANE FLY-IN pics; Begin about 2/3 into the collection; Just look for the pink T-shirt cover shot. Thanks to all who attended and for letting us photograph these gorgeous "works of art" and testimonial to true passions, of flight.
---
READY TO ROCK…HARD?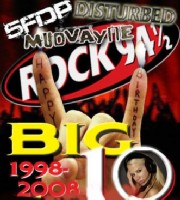 These are our "Rock Hard Moments" with WAYNE STATIC, CHAD FROM MUDVAYNE, and ZAAK WYLDE as we counted down the final days before ROCK HARD II at the Spokane Arena… plenty of Scoops and INSIDE INFO from WAYNE announcing a SOLO CD project, to ZAAK inviting VINNIE PAUL to jamn with his band… And why MUDVAYNE chose our area to complete and write the NEW GAME CD. (As featured on ROCK 94.5) *Also; hear STATIC-X take over the radio station on THE FREEWAY500, further down this page!
ROCK HARD MOMENTS:
HOOPFEST HOTTIES!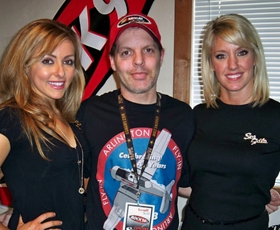 Stopping by the ROCK STUDIOS SEATTLE SEAGALS help Geoff Scott put the 'cheer' into HOOPFEST 2009 SEE THE PICS here and listen to the audio below, remember your 3 on 3 basketball team needs to be signed up soon! And with these gals waiting on your sideline to root you on, what are you waiting for? The ladies have some great snack recipes, too, on their Wa Dairy Assoc WWW.SEAGALSNACKS.NET page and a fitness test to see if you can out-fit the SEAGALS. Goodluck… we had to have medical asst after 3 minutes of their workout~ And that was just watching them do it! WO.
Hear the AUDIO by clicking HERE
---
SORROM SPEAKS!
MATT SORRUM (G&R, Velvet Revolver, The Cult, Guitar Hero…etc) Drops off the new 'DRIVE-A' disk and to talk alittle shop! 'DRIVE-A' is a project Matt proudly co-produced and is apparently what he likes to do while taking a break betwen vocalists for VELVET REVOLVER, PLAYING DRUMS WITH OZZY, and singing HAPPY BIRTHDAY to Perry Farrell…we also get "the truth" on how he REALLY feels about the upcoming Guns & Roses tour (featuring ONE member of the original Line-up) GET THE SCOOP HERE!:MATT SORRUM ON THE FREEWAY500 INTERVIEW

CANDLE…ROXXS!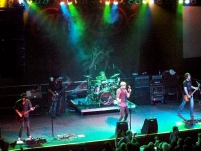 Stopping by the ROCK STUDIOS MOSH-PIT for some BOX LUNCH, CANDLEBOX Performed three acoustics and then took some questions and hung-out with cool Rock Listeners before their show with Jet Black Stare & Royal Bliss (See the VIDEO PAGE for those bands recent VIDEO performances) and left us with some pretty classic CANDLEBOX downloads for you:
*This last file is in a very special format; ROCK LISTENERS INTERVIEW THE BAND. This is unedited, and does contain some adult language*
---
STICKMAN…SPEAKS!

After a noticable hiatius of 7 yrs, STICKMAN CAUGHT ON TAPE Stops by THE CLUB EDGE to celebrate their grand opening with a special JAM WITH THE BAND. Stickman, who performed on the radio "Jam with the stars!", has been laying low as he told THE FREEWAY500 ROADCREW; "As the only non-self-combusting drummer to audition for Spinal Tap, I had been enjoying some down time & keeping away from pyro-technics. (then) THE EDGE gave me a call, and I (had) recently purchased a fire-suit~ so I figured what the hay!"
The crowd really seemed to enjoy the show, and only two people were treated for minor eye injuries from Stickman's trademark wild stick-flangings.
---
WE GET 'THE DOPE'… ON DOPE!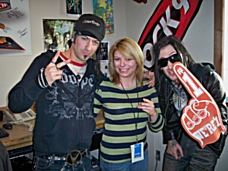 Edsell Dope of DOPEstops by on a Friday The 13th, to celebrate ten years of rockin' the undergound, and writing the songs we love to play in video games, WWE, movies, etc. Finally gets some 'center stage' time opening for Zaaks'BLACK LABEL SOCIETY BASH at The Factory. Dispel the rumours, and lets make some new ones! Features the new track ADDICTION and we can't get enough.  Download the interview here:
031309 DOPE (Edsell and Virus) INTERVIEW
---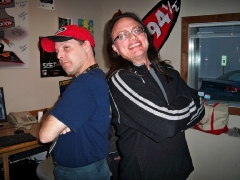 THE EYES OF A SOLDIER: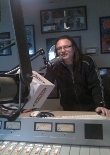 GEOFF TATE of QUEENSRYCHEstops by the Friday Flamethrower to WORLD PREMIER the new disc 'American Soldier' exclusively on Spokane's Best Rock, and talks about the making of this heart-felt tribute to Americas War Veterans. Interspersed with commentary gathered while speaking one on one with hundreds of GI's the music says these words that are too deep for many to express. Geoff Tate discovers an inner respect and deeper gratitude for the men and women of our nation's armed forces… And it rocks!!!
---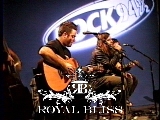 ROYAL MOSH!:
Returning to Spokane,ROYAL BLISS Makes good on a promise made back during HOOPFEST '08 to play our MOSH-PIT to a sitting-room only lunchtime crowd and VIDEO CREW This is the EXCLUSIVE FULL-LENGTH set from the Video posted on the VIDEOS PAGE, featuring songs from their Capitol Records/Caroline/MRV CD 'Life In-Between' ,and a few (other) suprises! WE LOVE TO BE BLISSED.They should be back this way early spring so LISTEN UP and enjoy the show… Royal Bliss appears courtesy CONTRABAND RECORDS (.mp3 – 24:44)
---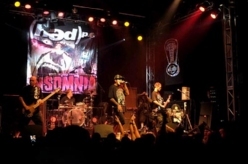 HED FOR THE SHED:
Jar-red brings HED P.E. Back to Spokane for the 'family' with the New World Orphans tourHEAR THE (full length) Interview HERE! And, here is where to find your HED before playing Japan and embarking on a US tour with Seplatura. Currently an I-POD Top ten realease, we discuss the possibility of the INTER-WEB perhaps being 'the NEXT seattle'?? And hear Jar-reds' take on the music industry changing times (4:35)
---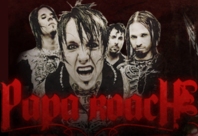 READY TO ROCK?:
Kicking off their largest arena tour-
PAPA ROACH checks in with Geoff Scott and G.A. before playing spokane. HEAR THE INTERVIEWBY CLICKING THIS LINK HERE! And, here is where to get your tickets. (Though not for long) Jacoby enjoys playing Spokane, has some good friends & even some old crew members living here. This should be a GREAT show. Can't wait for that new CD P-ROACH. (5:15)
---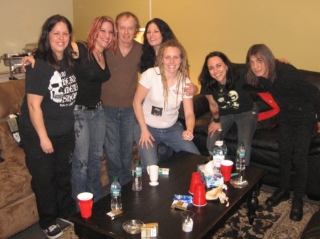 YOU WERE JUST KICKED BY A GIRL:
ACDC rings in …THE BELLES-
HELL's BELLE'S meets ACDC before their show at The Tacoma Dome. WE HOOK YOU UP WITH ADRIANNE, aka 'Angus' tonight The interview (full) has been posted here is the audio . Before their "Noize for Toyz" benefit *all ages* show Friday night at THE FACTORY… Please bring your new un-wrapped toy for a tot. Sounds like they really ARE the band ANGUS listens to, he gave Jamie Nova his knickers! THESE GIRLS ROCK!!! (12:30)
| | | |
| --- | --- | --- |
| Guitar arrives backstage | Belle's sign Guitar | Ready to win!!! |
Hell's Belle's & Rock 94.5 thanks EVERYONE who donated TOYS FOR TOTS! Congrats to our grandprize winner Virgil Aden of Spokane, your 'Guitar is in the mail'! (signatures are from Hell's Belle's AND Egypt Central from Rock Hard @ the Park concert). Rumours of an early spring or late-winter return.
---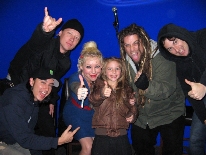 MOST POPULAR:
Kicking off the new Rock 94.5 'MOSH PIT' Studios-
IN THIS MOMENT sits down for some MOSH N NOSH before their show at The Knitting Factory. UPDATE: The VIDEO (full) has been posted on the VIDEO PAGE! And, here is the audio feed . Thank you, ITM. The band was very relaxed, had some pizza with the listeners, and enjoyed seeing their first snowfall for the year, in "Spo-Kanchorage". (9:45)
HOME FOR THE HOLIDAY: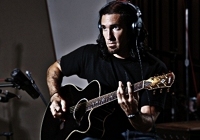 Clint Lowery "This Day" VERY SPECIAL solo performance! The project is called Hello demons..meet skeletons. The 6 song EP entitled Chills was recorded in 10 days by Clint Lowery of 7dust. It's an acoustic EP, everything played and sang by Clint, that touches on personal demons and personal events over the last 2 years. Some of the proceeds from the sales go to charity. Search "Hello demons meet skeletons" on ITUNES, and other digital stores…. A VERY DEEP TRACK to sample, click on link above. Posted with permission, and very very Tasty! See next link for an update on the project;
*GEOFF CHATS WITH CLINT**Clint's MY SPACE is linked here*
HIGHLIGHT:


JET BLACK STARE IN-STUDIO acoustic performance! This version in high-quality 320kb mp3 and contains the full set as recorded. Great tunes, with a bunch of really cool guys. (sorry Beavis ate all the appetizers before they got there!) 14:00 (FULL)
MUDVAYNE ON 'NEW GAME' Chad speaks to Geoff Scott about the new CD, online MUDVAYNE GAME, selling-out another Spokane Concert and writing/recording in North Idaho backwoods! 20:17 (FULL)
---
©jOFFCO 2009
Frikin' rock n' roll, dude.
our thanks to 10 great years on ROCK 94½
Posted on
October 5, 2009
| Posted by
Geoff Scott
|
Comment