Filed Under:
"Air Force"
,
"Base Life"
,
"Lamb Of God"
,
"Northwest
,
"Rock Hard"
,
"spokane airways"
,
"spokanes best rock"
,
concert
,
Fairchild
,
geoff scott
,
manson
,
mudvayne
,
on-air
,
picnic
,
Rock Radio
,
spokane
,
summer
,
\"Rock 94.5\"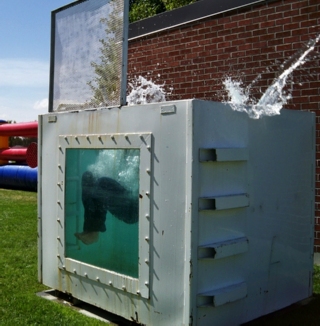 Labor Day Weekend: After a great showdown of last minute concert activity capping off the final week of "technical" summer… Sorry I missed Jet Black Stare, those guys are great! But, Manson played TWO shows in Spokane on Monday (the added show) and Thursday (the original~ SOLD-OUT show). For most of the week we heard how good both shows were with an emphasis between the shows as we took your "Manson Sightings". Some of my favorites  included; "Running down the Centennial Trail in pink spandex runner-shorts", "Returning baby-clothes (with Twiggy) at the BABY GAP", "Sucking all the sun out of a local tanning salon"… and the GP winning sighting: "Up in the mountains making who-haa with the Yeti"! Concert reports began to trickle in of Stage-Peeing, Enough Strobe action to send an anime' maker into convulsions, and Marilyn didn't like the way a fan was getting too close, so he threw a plastic can and beaned the dude off the head.(Angel's report; unconfirmed)
Meanwhile, back at the radio-ranch, I'd been running a small "covert" operation, keeping me on my toes and doubly busy with additional pre-weekend duties. On Thursday, I actually (sorry!) pre-recorded my show and was escorted to a top-secret location on Fairchild AirForce base, where we provided live entertainment for 500 troops!
It was awesome- all the E-1′s – E-4′s have some good memories with ROCK 94.5 on-base. I was SLIGHTLY humbled, as always, to work with these fine men & women who often give so much to protect our nations freedoms~ yet, seek so little in return. (And to think I complain when the traffic holds me up ten minutes in construction)
…So we played the AC/DC "WE SALUTE YOU", as I tried to convey my personal feelings of gratitude the best I could; Mudvayne, Lamb Of God, and Killswitch CDs & DVD's. There was the "Pie-in-the-face" of the Captain, The "Beer Goggles" obstacle course, The giant-Inflatable boxing-ring, and the ice-cold "dunk tank".  Airman Roberts would be "dunked" like a trooper multiple times throughout the course of the breezy-cool & very dusty pre-fall afternoon. And all this, while sargents & command cooked the hamburgers, serving the long staggered feed-line. "better than M.R.E.'s, eh?"  Special thanks to the FIRST-FOUR program, SNAP (Ron Hardin), and Sr. Airman Peters for bringing us in for that truly memorable "company" event.
*** I actually miss hosting their "Open House" like I used to (for about ten years), so this was a great way to get back in touch with some of those old-fond memories I have of being a guest, in base-life. And, also, on a personal note: I was deeply touched by the many airmen who came up to me, took me aside, and mentioned how "you guys got me through~" or "When i was overseas, there was no base, but there was YOU guys online…" Or, "you're my lifeline when i am not home"
… i kind of had no Idea. I know we stream online and the computer in the back of the room just sits there spitting out packets of music and program, while lights blink on and off below~ but I never really think of those on the other end like that, maybe I'll start paying a little more attention to what's going down that worldwide pipeline. JUST KNOW THAT WE REALLY REALLY DO…
THANK YOU FOR YOUR SERVICE.
-=Gs=-
Posted on
September 6, 2009
| Posted by
Geoff Scott
|
Comment